Guide to Property Taxation in France for 2017
Discover our guide to property taxation 2017:
France is one of the most beautiful tourist and real estate investment destination for non-residents.
Yet taxation, administrative and legal constraints are all subjects of concern to foreign investors.
Do you want to buy a property in France? What is the acquisition process?
You have heard of the Impôt de Solidarité sur la Fortune (I.S.F), the French wealth tax, and you are asking yourself questions?
You want to sell a property in France and you wonder about the tax consequences of the operation?
Our philosophy at Roche & Cie is to assist you in all stages of your project, so that your investment in France combines legal security, optimization and pleasure.
---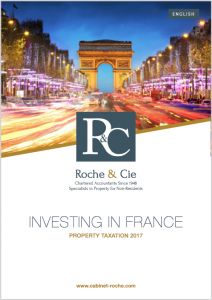 ---
---
Cabinet Roche & Cie, Chartered Accountant in Lyon
Specialist in Real Estate and Taxation of Non-Residents